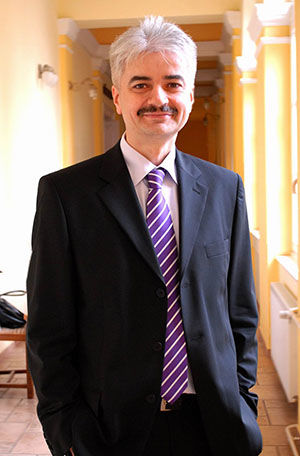 My name is György Rokszin MD and I am the owner and managing director of RxTarget Data Mining and Statistical Ltd. I graduated from the Faculty of Medicine, Albert Szent-Györgyi Medical University, Szeged, in 1992.
 After receiving my medical degree, I completed one year of training in internal medicine and one year of obligatory military service. In 1994, I left my beloved profession to join the dynamically developing pharmaceutical industry and to become a medical representative of the Biogal Pharmaceutical Company.
At the end of 1995, I transferred to the Ciba Pharmaceutical Company (later called Novartis) and initially worked as a medical representative, then, from 2000, as a regional sales manager.
In the meantime, I earned a degree in management from the Euro-Contact Business School. In 2002 I was appointed product manager (in the fields of dermatology and subsequently, cardiology) and remained in this position until February, 2008.
After 13 years at Novartis, I accepted the invitation of my best friend to join RxPress Ltd. As the sales and marketing manager of the company, my task was to establish the foundation of a new industrial sector: data mining based on information from the National Health Insurance Found (NHIF) database.
Following my friend's departure abroad, I founded my own company, RxTarget Data Mining and Statistical Ltd. on 30 June 2010.
My primary objective was to provide analyses based on information from the NHIF database (prescriptions, in- and outpatient data) for our Partners from pharmaceutical companies and medical associations. With my excellent mathematician-statistician colleagues, we have been able to establish a reliable basis for a better understanding of the market, thus facilitating strategic and tactful decision-making. Over the past few years, it has become clear that the NHIF database is an appropriate source for exploring hidden opportunities within the pharmaceutical market, thereby helping the launch of new products and supporting previously introduced pharmaceuticals. To date, 15 English and 7 Hungarian articles published in high-quality scientific journals hallmark the value and relevance of our work (See list of publications in the Publications Section).
 "We are always on the road" was an often-quoted golden saying of a friend of mine and this is particularly true for RxTarget Ltd. Day by day, we learn something new that we use in our subsequent projects to provide high-quality services for our Partners. We never feel that we have reached the ideal level of knowledge in our work, but we continuously strive to achieve it.
Dear present and future Partners, we offer you our professional services with assiduous, enthusiastic work-morale. Join us, become one of our Partners and let us show you that we are worthy of your trust.

RxTarget Kft.
5000 Szolnok Bacsó Nándor u. 10. Fszt. 2.

Your personal data including your name and e-mail address will only be used to contact you, to reply to your letter or to process the requests made in your e-mail. Your personal data will not be utilized for any other purposes. Our data handling policy serves your best interest, so that we can contact and reply to you.